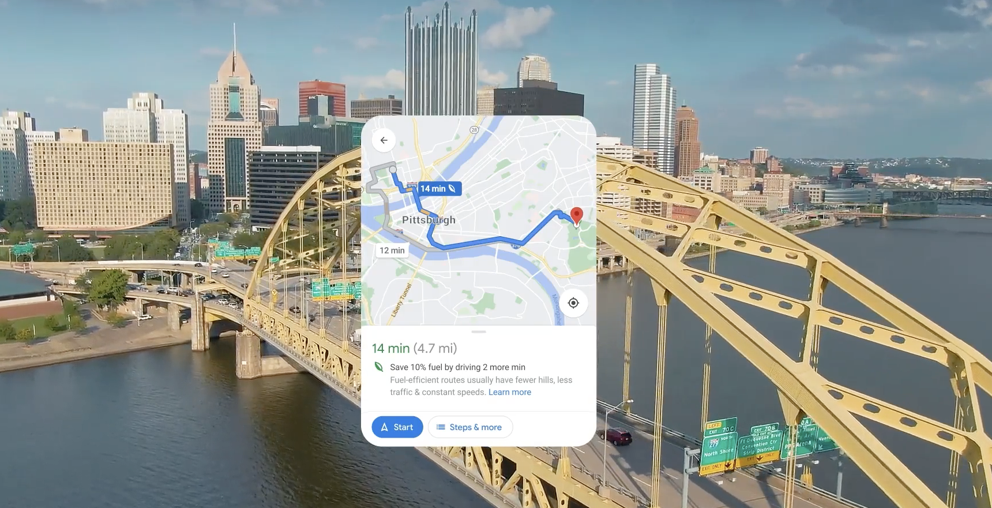 Maps
At Google we believe technology has a unique opportunity to help different types of industries decarbonize - particularly those with the largest carbon footprints. So we've been exploring ways Google products and technology can provide solutions that reduce the carbon impact of cars and trucks.
---
Eco-Friendly Routing
Availability: US 
Launch Date:  Today (October 6, 2021)
Eco-friendly routing is now live in the U.S. today.
It's a new Google Maps feature powered by AI and insights from the U.S. Department of Energy's National Renewable Energy Laboratory (NREL) that helps you get to your destination as quickly as possible, while optimizing lower fuel consumption - which saves you money on gas.
Now, in addition to showing the fastest route, Google Maps will also display the one that's the most fuel-efficient if it doesn't happen to also be the fastest.
With just a few taps, you can see the relative fuel savings and ETA difference between the two routes and choose the one that works best for you.
And if you always want the fastest route, you can adjust your preferences in Settings.
We estimate that eco-friendly routing has the potential to avoid over one million tons of carbon emissions per year — that's the equivalent of removing over 200,000 cars from the road.
Availability: Europe 
Launch Date:  2022
---
Lite Navigation
Availability: Anywhere cycling navigation is available 
Launch Date:  In the coming months
We're making it even more convenient to get around by bike.
With lite navigation, cyclists can quickly see important details about their route without needing to keep their screen on or enter turn-by-turn navigation at all.
At a glance, you can track your trip progress, see your ETA update in real time, and even know the elevation of your route so you can keep your focus where it needs to be - on the road.
---
Bikeshare
Availability: 300 cities around the world 
Launch Date:  Today (October 6, 2021)
We'll expand bike and scooter share in over 300 cities around the globe, including in places like Berlin, New York, São Paulo and Taipei.
Right from Google Maps, you find nearby stations available, and even see how many vehicles are available at that moment.
And when you're done with your ride, you can make sure there's a place to park before heading over to the station so you're not waiting for a spot.
This expansion is only made possible thanks to a number of micro mobility partners around the world, like Donkey Republic, Tier and Voi in Europe, along with Bird and Spin in the U.S.  
---